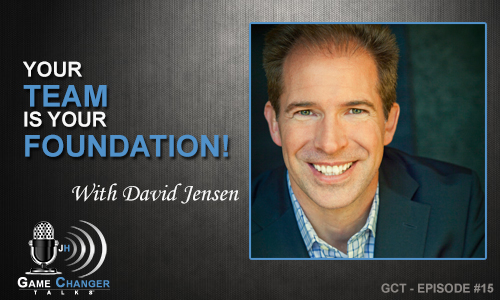 Podcast: Play in new window | Download
Subscribe to the show on: iTunes | Stitcher
On this episode of the Game Changer Talks, I am honored to welcome David Jensen to the show. David is the CEO of the Hiring Academy and David Jensen Coaching. He is a professional speaker and executive coach, and the best-selling author of the book Naked Interview: Hiring without Regret. David has been coaching C-level executives and entrepreneurs for may years. With his book and the creation of the Hiring Academy, he added the title of "The Hiring Guru" to his resume.
Listen in as David shares his wealth of knowledge on how to save you thousands on the wrong hire, and how to implement a system that will ensure you hire the right person on your first attempt. You do not want to miss David's simple techniques for hiring that will help you hire smart, regardless of your company's size.
In this episode you will learn: 
David's 10 simple truths to hiring.
Why you need to get on the phone with your applicants.
How David was able to increase his employee retention rate.
Why you need to write all of your ideas down on paper.
The two words that can increase employee retention for your company, regardless of its size.
Links & Resources Mentioned in show: 
Subscribe to Game Changer Talks: