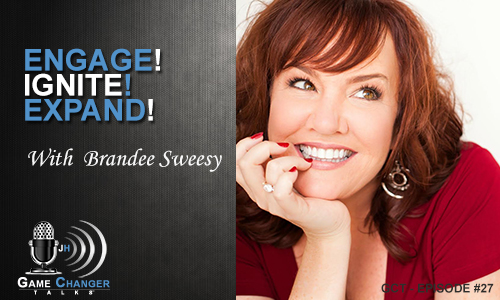 Podcast: Play in new window | Download
Subscribe to the show on: iTunes | Stitcher
Summary:
On this exciting episode of The Game Changer Talks, my guest today is known as the Hangout Marketing Expert and the premier go-to expert on Google Hangouts and YouTube Live. Brandee Sweesy has over 20 years of experience in the marketing and public speaking world. With her amazing skill set, she brings tremendous value to every business she comes in contact with. Her strategies can help you to join her clients to drive thousands of viewers and a lot more money in sales every month.
Listen in as Brandee shares her incredible journey, from being taught as a child by her extremely entrepreneurial grandfather, to cutting her marketing teeth in the real estate world, and how she was introduced to Google Hangouts. Her trademarked slogan, "Engage! Ignite! Expand" really encompasses all of the ways that she helps her clients, including her fired-up personality that fuels her clients to reach their goals. Do not miss Brandee's tips, tricks and shortcuts that can have you multi-purposing your content and making Google to work for you!
In this episode you will learn: 
How you can benefit from Brandee's services.
The strategy to get your video's ranked and drive traffic to your site.
Why you don't want to be keyword heavy.
Why automated systems are not always best.
How Brandee's "Poke and Hope" strategy helped her to develop her best practices.
Links & Resources Mentioned in show: 
Subscribe to Game Changer Talks: