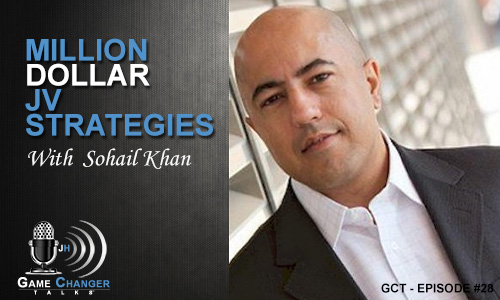 Podcast: Play in new window | Download
Subscribe to the show on: iTunes | Stitcher
Summary:
Today on The Game Changer Talks, I am honored, privileged and blessed to have one of the foremost experts on putting the right people together to make multi-million dollar deals, strategic partnerships and JV alliances – Sohail Khan. Sohail is actually getting ready to release a project that is a result of one of his most exciting partnerships to date, a book co-authored with the late Jay Conrad Levinson of Guerilla Marketing, called Guerilla JV Partnerships.
Listen in as Sohail shares his incredible journey of starting his own business and becoming a multimillionaire, losing it all, and fighting back to the top. Sohail delves into how he created some of the most successful joint ventures, the dos and don'ts of creating a successful partnership and how you too can learn to make millions in a matter of months!
In this episode you will learn: 
Sohail's introduction to joint ventures.
Why success boils down to having the right mindset.
How Sohail was able to double his business in just one year.
The #1 tip for million-dollar joint ventures.
How Sohail went from having millions in the bank, to broke and back in a matter of months.
Links & Resources Mentioned in show: 
Subscribe to Game Changer Talks: