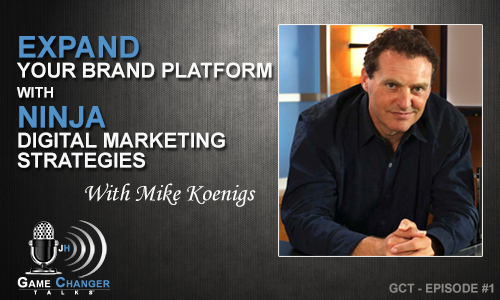 Podcast: Play in new window | Download
Subscribe to the show on: iTunes | Stitcher
Welcome to the inaugural episode of Game Changer Talks! We are very excited to be publishing the show live for all the listeners out there, so without further ado, here's the first episode…
Today, it is a privilege and an honor to welcome to the show Mike Koenigs, a five-time #1 best-selling author, successful entrepreneur, speaker and filmmaker. Mike has an amazing, innate ability to predict what's going to happen in marketing, as well as digital marketing, before it happens. His personal mission is to help create a million entrepreneurs (or even better – a million millionaires!) during his lifetime.
Listen to this episode to get some game-changing strategies and actionable advice from Mike that will help you take your business to the next level. You will learn how to obtain the correct mindset for success and execute it to give you the results you are looking for. Don't miss this insightful episode!
In this episode you will learn: 
Mike Koening's incredible journey on the way to success.
Five areas in which Mike is exceptional.
How to REALLY get clear on your purpose in life and how to execute it.
How "moving out of the way" and allowing others to run can actually produce better results.
The difference between making money and making a profit.
The secret to Mike Koening's success.
The importance of keeping your word no matter what (even if it will make you lose out on profitable opportunities).
Mike's priceless marketing advice for business owners.
Links & Resources Mentioned in show: 
Subscribe to Game Changer Talks: