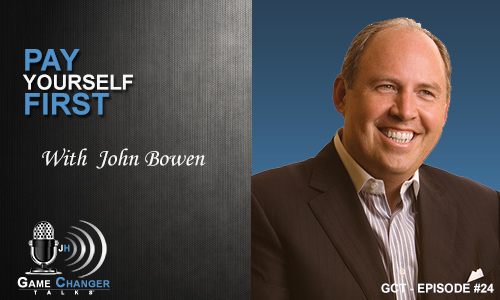 Podcast: Play in new window | Download
Subscribe to the show on: iTunes | Stitcher
Summary:
On today's episode of the Game Changer Talks, we're excited be talking to John Bowen. John is the CEO of CEG Worldwide, a coaching organization that educates the top 1% of all financial advisers on the planet. After leaving the Navy and graduating with his MBA in Finance and Tax, John went on to start and run several billion-dollar financial service companies for some of the wealthiest people and businesses across the globe. In the true Game Changer entrepreneurial spirit, the only time that John has ever worked for a corporation is when his company was acquired.
Listen in as John shares his incredible entrepreneurial journey from a Navy Pilot to managing over 400 employees and then running his virtual consulting company. Drawing upon the lessons he learned over his many years in the financial world, John is now working with financial advisors to  help them provide their clients with an amazing experience. Do not miss John's game-changing tips that will ensure that you are delivering the best possible customer service that will have your name on the tip of everyone's tongue.
In this episode you will learn: 
How to skip levels to achieve incredible success.
Three elements that will accelerate your success.
How to take advantage of CEG Worldwide's coaching program.
The 2 reasons that John created Financial Advisers Select.
Why John's virtual conferences are the wave of the future.
Links & Resources Mentioned in show: 
Subscribe to Game Changer Talks: